Letter from LAYB President Brian Gorman
Dear LAYB Families,

Last night, our league held our annual elections. As most of you know, this was my fourth and final year as LAYB President and my 8th year as a board member. I would like to thank you all for allowing me to lead this league these past four years. I have had some time to reflect and can honestly say LAYB has been a special place for me, a home away from home. Like many of you, I grew up in this area. I played baseball at LAYB when I was a kid. When I returned to the league my son, Wyatt, was four years old. I can remember him like it was yesterday, playing on the Foal field. This month, Wyatt will play his final games at LAYB and will leave our fields a young man.

To this day, I sometimes just sit in the Foal bleachers and watch a portion of a game. To me, the Foal and Shetland divisions are the true heart of our league...if we are successful there, we will be successful in our other divisions in the future. LAYB has allowed me to be present in not only my son's life, but in the lives of all the kids and their families that play here. Wyatt has grown up at our fields. I have grown up also. Some of my best friends came to me through LAYB. It's truly been a blessing for not only me but my entire family.

As I now step away, I can say our league has never been stronger. My goal as president was to leave LAYB in a better state than it was when I found it. With the Bronco World Series now calling LAYB it's home, with MLB calling LAYB one of the top 14 youth baseball leagues In the USA and the strength of the new board we have elected, I feel confident that goal has been achieved.

I'll ask one final favor from all of you. Try to remember the Volunteers running this great league are doing the best they can do. They have chosen to take time out of their busy lives to try to make a difference. A difference in not only their child's life, but the lives of all the kids in our league. I joined the board because I saw things that I thought could be better, and I wanted to give back.

I want to thank all of my board members for helping me throughout the years. Without some of you I can honestly say I couldn't have done it...you know who you are.

I can now focus on my real estate career...yes, I do have a real job which may come as a shock to some of you. :)

Once again, thank you for your confidence and putting your trust in our league.

Brian Gorman
LAYB President

"Service is the rent we pay for being. It is the very purpose of life, and not something you do in your spare time." -- Marian Wright Edelman


posted July 15, 2015

---
All Star Families Required to Volunteer at Summer Tournaments at LAYB
As you know, our LAYB program is maintained and enriched by volunteers, managers, coachs, field crew, general managers, snack shack workers and scorekeepers all of whom are not being paid.

Everyone on the All Star teams has previously agreed to work a minimum of one 4-hour shift during the hosting of our Invitational tournament, the Mustang and Pony zones or the Bronco World Series.

We currently have spots available to sign up on our website:

Click Here to work the Zone Events from July 30th - August 2nd

Click Here to work the Bronco World Series from August 7th - 10th


---
Fall Baseball 2015
Online registration is now open for LAYB's Fall Season.
Click Here to Register for Fall Ball at LAYB

· Season starts the weekend after Labor Day and runs until the weekend before Thanksgiving.
· 10 game season (weather permitting, no make-up games)
· Games will be played on Saturday nights and Sundays
· Players will be given a hat and team jersey
· Limited number of teams - registrations accepted on a first come basis
· Full teams welcome - competitive and non-competitive divisions (Depending on number of teams

2015 Fall Baseball Rates:

Pony $110.00
Bronco $100.00
Mustang $95.00
Pinto $90.00
Shetland $65.00
Foal $65.00

Above rates do not incude $30 Snack Shack Deposit required for all divisions


---
LAYB WEATHER LINE
(562) 598-1919. The LAYB Weather Information Line provides recorded messages for information regarding upcoming events, field condition/rain-out information, etc. If you need to speak with someone directly, please locate the appropriate person on our Board of Directors page. Thanks!
---
THANK YOU SPONSORS!
LAYB would like to thank our generous sponsors. You are a huge part of the league's success and we appreciate your support. Please visit our Sponsors page and consider their services as the need arises. Please also consider becoming a league sponsor. Click here to see our 2015 sponsorship packages.
---
NO DOGS OR PETS AT LAYB -- SEEING EYE DOGS PERMITTED

NO SUNFLOWER SEEDS AT LAYB
---

LAYB PLAYER NEWS....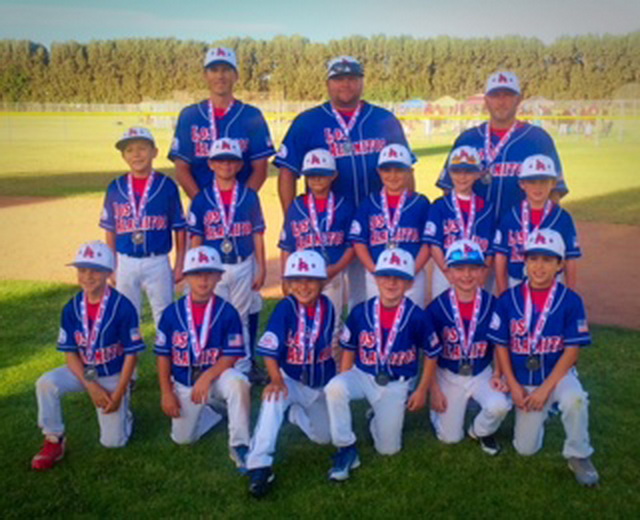 GREAT WEEK FOR THE MUSTANG 9U ALL STARS...DISTRICT CHAMPS 18-10 OVER ELB IN THE FINAL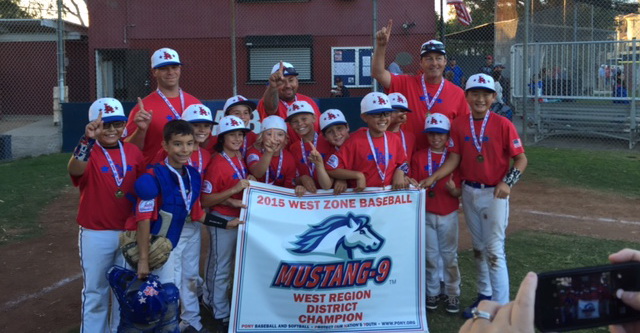 14U ALL-STARS WIN XTREME DIAMOND SPORTS TOURNAMENT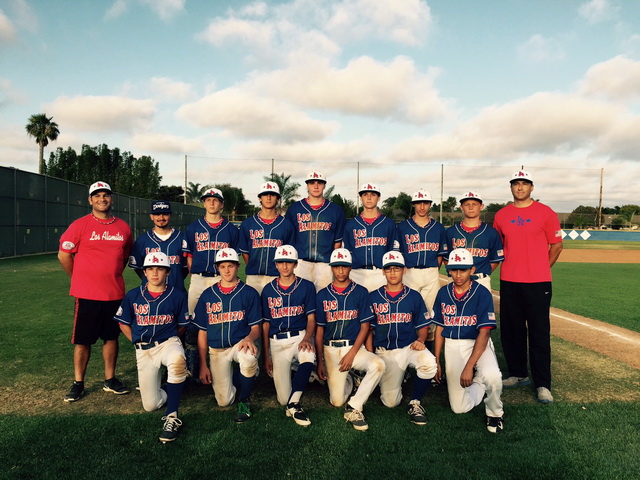 The Los Alamitos 14U All-stars won the xtreme Diamond sports July 5th firecracker extravaganza. In a one day six team tournament, Los Al defeated Rox baseball 8-3 and Caira's Bulldogs 10-1 to move into the championship bracket. Los Al successfully defeated California Baseball Academy 11-9 in a very competitive game. Congratulation 14U boys!

MUSTANG A TEAM WINS SILVER BRACKET AT THE 2015 SEAL BEACH PONY BASEBALL PRE ALL-STAR TOURNAMENT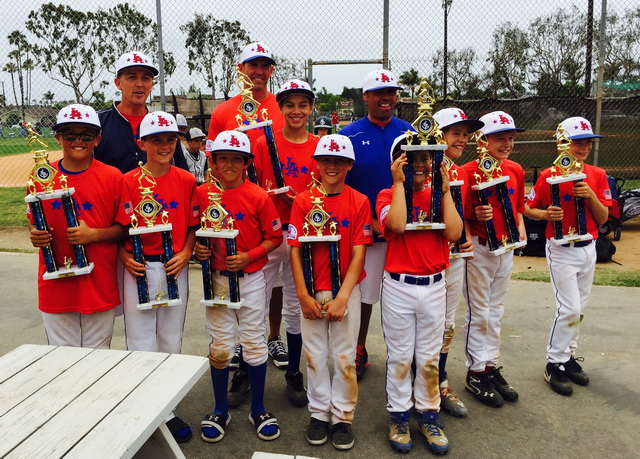 LOS ALAMITOS SHETLAND A ALL-STARS TAKE 2ND PLACE IN ELB MEMORIAL TOURNAMENT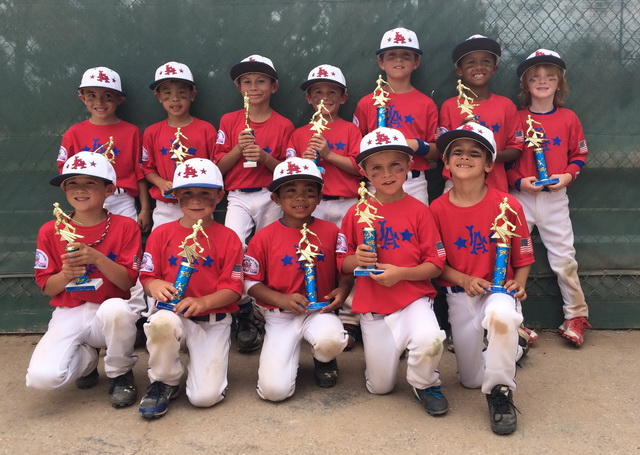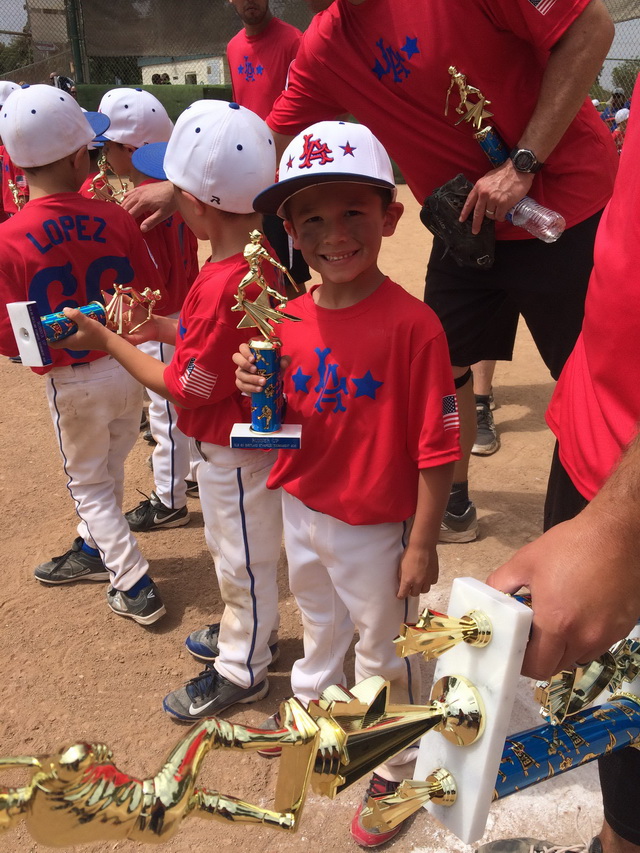 MUSTANG ANGELS LEND HAND AT CYPRESS CHAMPIONS LEAGUE



LAYB ALL-STARS BEAT MEXICO 13-9 IN 2014 BRONCO WORLD SERIES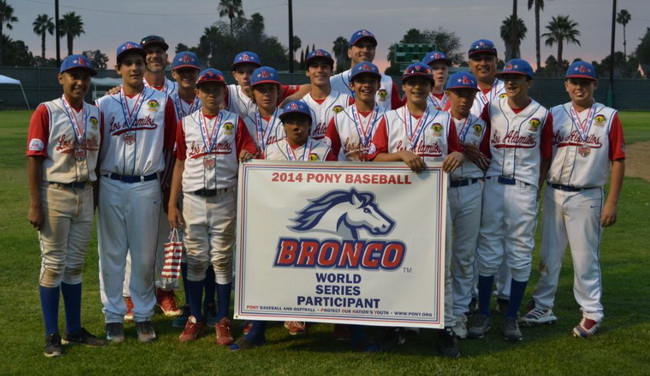 Our LAYB Bronco All-Stars had an exciting come-from-behind win over Mexico at the Bronco World Series at LAYB. Down 9-6 heading into the 7th inning, the team scored 7 runs and held Mexico scoreless at the bottom of the inning to advance to the 3rd round against Taiwan. Congratulations and thank you to our players, coaches and families for an exciting World Series run!

We will try and highlight various accomplishments by our baseball players, on and off the field. If you have a story that we should share, please send it in to us.
(Send it to webmaster@LAYB.org)