Bronco World Series at LAYB
PONY Baseball's Bronco League World Series Takes Place at LAYB, August 1 - 4. Volunteers still needed.
LAYB is honored to host PONY's 2014 Bronco League World Series. Eight teams from Taiwan, Puerto Rico, Mexico and across the United States will battle to be called World Champion while playing PONYs fast and exciting brand of youth baseball. Come on out to "the Base" on Friday, August 1st at 8:00pm to cheer on our Los Al Bronco All-Stars as they take on the Asia-Pacific Zone Champion from Taiwan in an exciting first-round match-up!

Volunteers are still needed for the Mustang Zone, July 24th to July 27th and for the Bronco League World Series, August 1st to 4th. VolunteerSpot does not share your email address with anyone. If you prefer not to use your email address, please contact PlayersAgent@layb.org and he can sign you up manually.


---
MLB Digital Academy Honors LAYB
LAYB Named One of Top 15 Youth Baseball Leagues in Nation
MLB Digital Academy put together a list of the top 15 youth baseball leagues in the USA. Los Alamitos Youth Baseball is very honored to have been selected to that list. Here is the announcement from MLB's Digital Academy:

"We have identified Los Alamitos Youth Baseball (LAYB) as one of the most influential youth leagues both nationally and in the state of California. In doing so, we would like to announce and select LAYB as one of our nations Top 15 Youth Leagues."


---
LAYB WEATHER LINE
(562) 598-1919. The LAYB Weather Information Line provides recorded messages for information regarding upcoming events, field condition/rain-out information, etc. If you need to speak with someone directly, please locate the appropriate person on our Board of Directors page. Thanks!
---
THANK YOU SPONSORS!
LAYB would like to thank our generous sponsors. You are a huge part of the league's success and we appreciate your support. Please visit our Sponsors page and consider their services as the need arises. Please also consider becoming a league sponsor. Click here to see our 2014 sponsorship packages.
---
NO DOGS OR PETS AT LAYB -- SEEING EYE DOGS PERMITTED

NO SUNFLOWER SEEDS AT LAYB
---

LAYB PLAYER NEWS....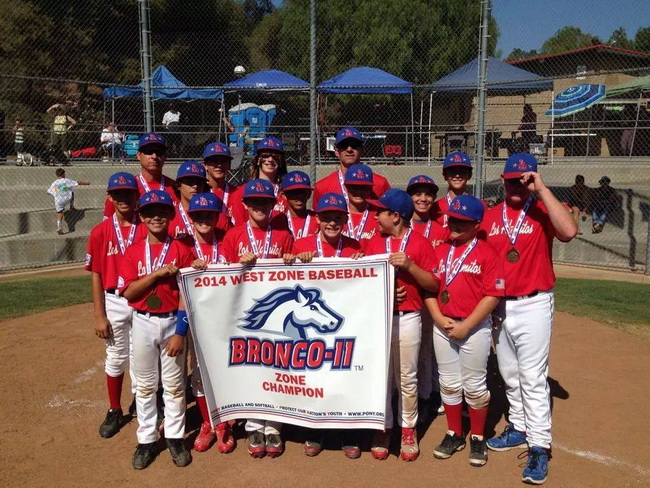 LAYB's Bronco 11 A All-stars earned a trip to PONY Baseball's Bronco-11 League World Series in Chesterfield, Virginia. They put in a dominating performance in the Western Zone tournament in San Marcos, CA this past weekend, going 4-0 and beating Simi Valley 14-2 in their Championship Game, July 20, 2014. Good luck in the World Series, boys and coaches!

LAYB'S SHETLAND ALL-STARS WIN SUPER REGIONAL CHAMPIONSHIP!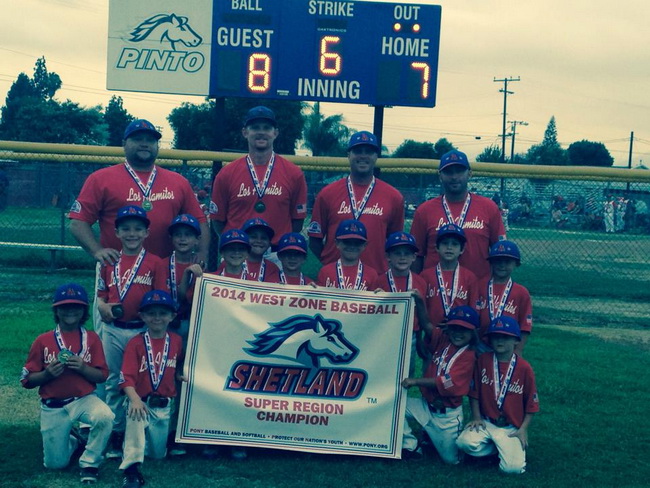 LAYB's Shetland All-stars went 3-0 to win their Super Regional Championship in West Covina! Way to go Los Al!

MUSTANG 10 A WINS TOURNAMENT CHAMPIONSHIP!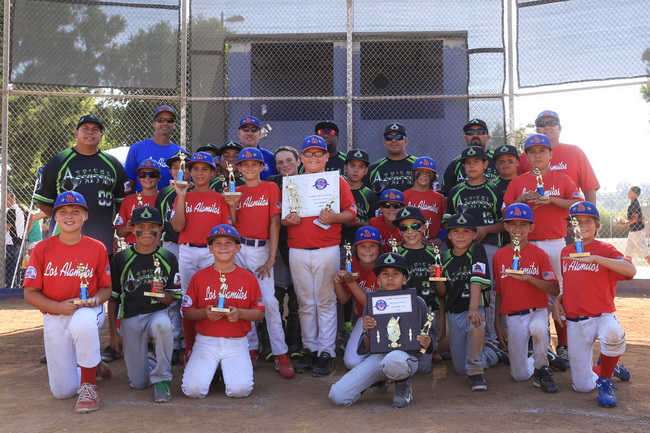 The Mustang 10U took first place in the Hardcore Beach Classic tournament, going 4-0 for the evnt. Congrats guys!

MUSTANG A WINS THE AAU WOOD BAT CLASSIC!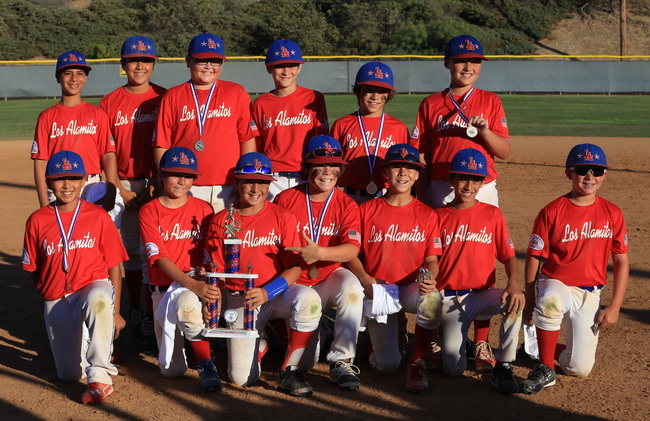 Mustang A wins the AAU Wood Bat Classic for the 2nd year in a row!

LAYB PINTO A WINS DISTRICT TOURNAMENT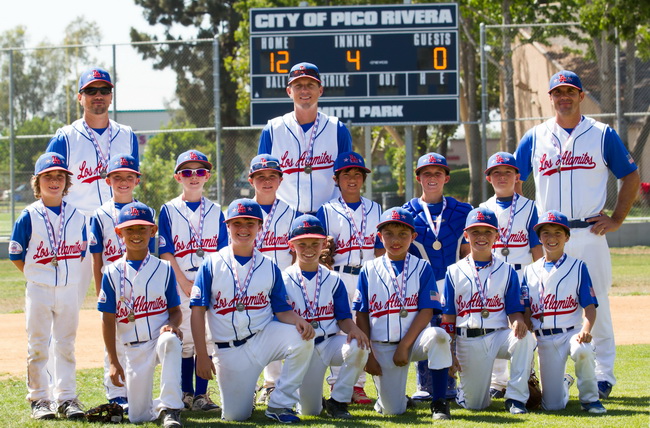 Pinto 8A All-stars Win PONY District Sanctions Tournament!

LAYB PONY 13U WINS PONY DISTRICT TOURNAMENT - ADVANCES DIRECTLY TO WEST ZONE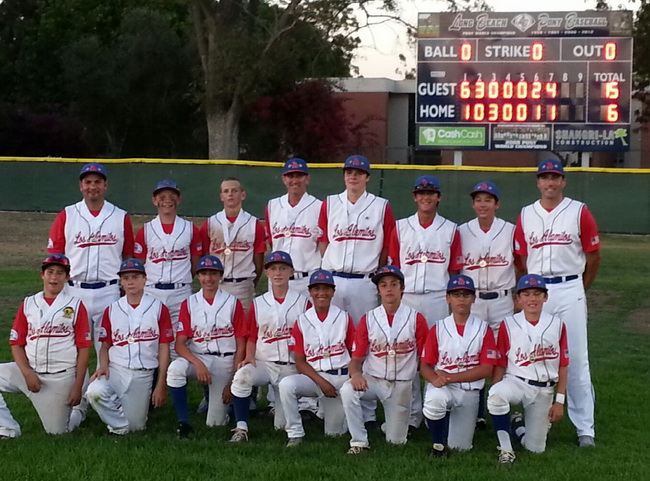 Los Al 13U defeated South Bay Pony 15-6 to win the 2014 Pony 13U District tournament in Long Beach! With the victory, the team advances directly to the West Zone tournament! Congratulations guys for a great weekend performance!

LAYB'S MUSTANG 10U B WINS ALL-STAR EXTRAVAGANZA TOURNMENT!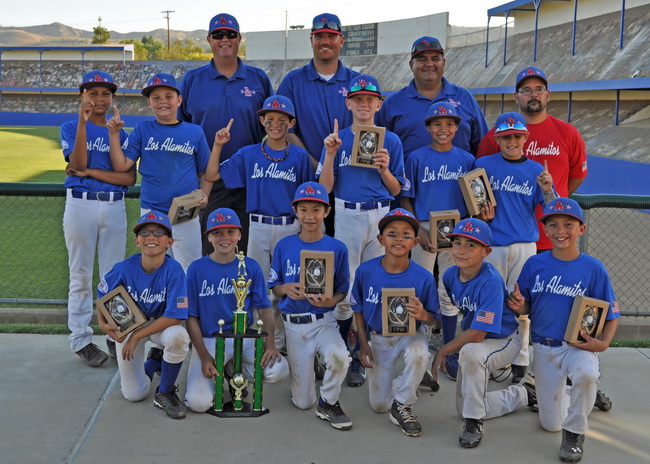 Our 10U Mustang B team went undefeated to win the "All Star Extravaganza" 10 Blue - Championship held at both West Covina & Chino Hills Big League Dreams on 6/28 & 6/29. Well Done Boys!!

Back (L-R) Coaches - Patrick McIlrath, Clark Rueckert, Stan Bean, Tim Zamarripa Mid (L-R) Tyler Sandhu, Sean McIlrath, Matthew Bean, Nathan Rueckert, Matthew Pirrello, Ryan Zamarripa Front (L-R) Brendan Deems, Grant Muhlenbruch, Matthew Young, Matthew Lau, Elijah Wilkerson, Jeremy Gutierrez

LAYB PONY A WINS XTREME DIAMOND SPORTS TOURNAMENT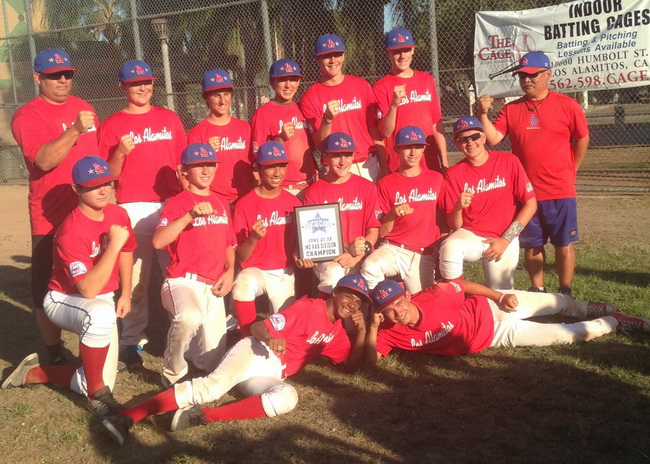 Los Al 14U started off going 0-2 in this tournament the first day and was ranked 10th out of 10. We settled down, stayed together and played as a team on the second day. Our hitting, speed and pitching allowed us to pull off another tournament win! 4 tournaments and 4 championship wins!!!

LAYB MUSTANG A WINS LOS ALAMITOS TOURNAMENT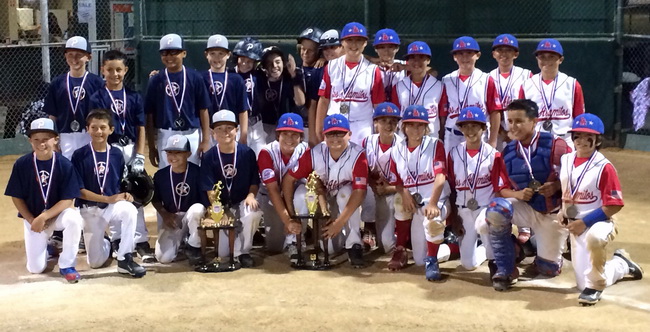 Mustang A wins their LAYB Championship against a very formidable Placentia Pony All Star team. Los Al went 5-0 in our tournament to win it all.

LAYB BRONCO B WINS LOS ALAMITOS TOURNAMENT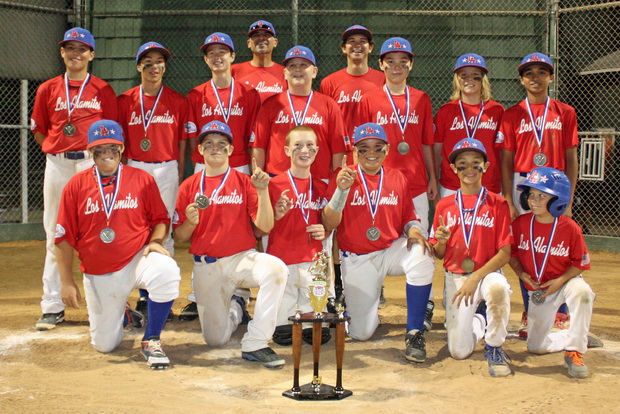 The Los Alamitos Youth Baseball (LAYB) Bronco "B" team (Age 12 and under) went undefeated in their bracket of the annual LAYB-hosted All-Star Invitational Tournament. The boys did their dads proud by clinching the tournament final and playing into the evening of Father's Day. The whole team contributed to a strong showing of offense and defense, by winning all of their tournament games by "Mercy Rule" (a 10 run or greater lead after 5 innings), including the final.

Show here are (L to R, first row): Landon Ball, Colby Deterding, Ryan Lasiter, Will Schwab, Sean Simonet, and Bat Boy Owen Schwab; (L to R, 2nd row): Patrick Shanahan, Justin Armond, Justin Nankee, Gage Record, Matthew Teufel, Gaige Northrup, Noah Levy; (Back row) Manager Bill Schwab and Coach Kevin Valdez

EASTON SHORTLE HITS SHETLAND HOME RUN #5! WINS FREE CHICK-FIL-A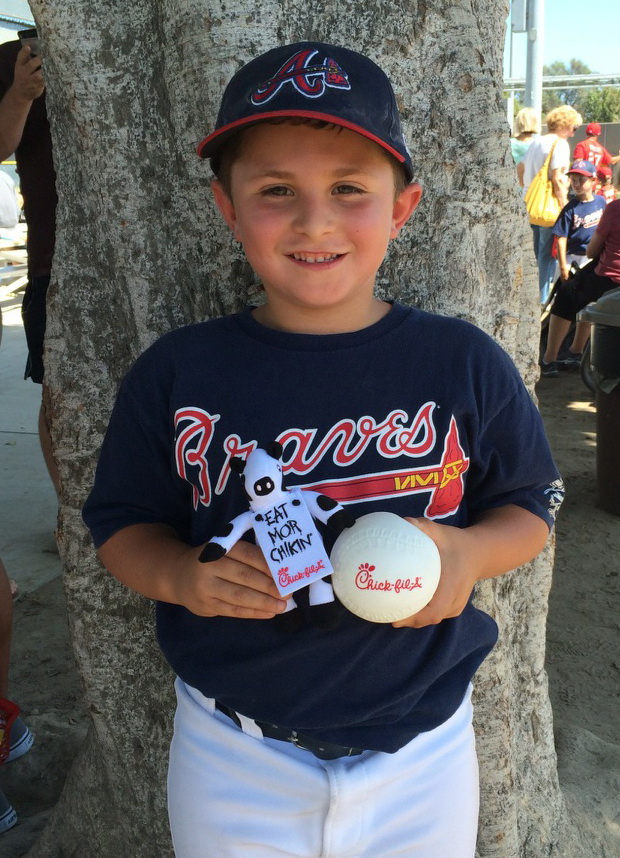 Easton Shortle has hit five over the fence home runs this season. LAYB sponsor Chick-fil-A at the the Shops at Rossmoor set-up the Fun Zone on the left-field fence this season and gave out free kids meals and prizes each time a kid hit one off the wall on a fly or over the fence. Congratulations, Easton, and all our Chick-fil-A Fun ZONE winners!

LOS ALAMITOS BRONCO "A" ALL-STARS WIN MEMORIAL DAY CLASSIC TOURNAMENT RED DIVISION CHAMPIONSHIP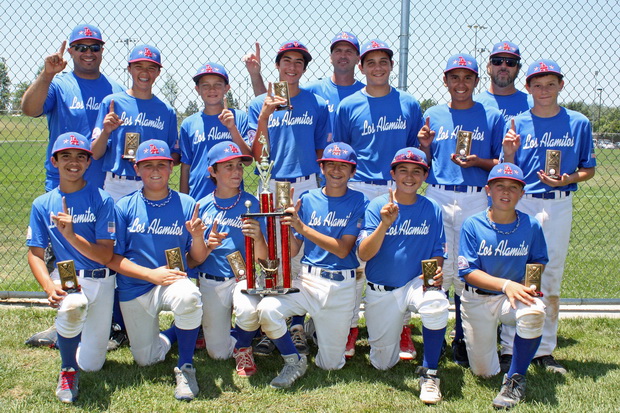 The LAYB Bronco A team went undefeated to capture the Red Division championship of the 2014 USSSA Fountain Valley PONY Baseball Memorial Day Tournament. Bronco A dominated Cypress, Fountain Valley and Charter Oak in pool play, but on Monday morning they faced stiff competition from Fountain Valley as they fell behind 7-2 in the third inning. LAYB battled back with strong pitching from Joel Castillo as John Newman tied the game 7-7 with a 2-run home run in the bottom of the sixth to send the game to extra innings. Dylan Terman hit a walk-off sacrifice fly in the bottom of the 7th to score Michael Wilber from 3rd base and the LAYB Bronco A team won the game 8-7. LAYB beat Cypress 5-0 in the championship game with strong pitching from Kurren Brendel and Ryan Velez. LAYB's Bronco A team will compete in PONY Baseball's Bronco World Series at LAYB August 1 - 4, 2014.

Pictured in the photo (L-R front row): Elijah Keith, Ryan Velez, Graham Forst, Michael Wilber, Jackson Ronningen, John Newman. (L-R back row): Manager Joe Keith, Luke Hansard, Corey Patterson, Anthony Valdez, Coach Bill Wilber, Kurren Brendel, Joel Castillo, Coach Eric Brendel, Dylan Terman.

Not pictured: Sebastian McSherry, Wyatt Keller and Jaylin Cannon.

LOS ALAMITOS BRONCO "B" ALL-STARS WIN MEMORIAL DAY CLASSIC TOURNAMENT BLUE DIVISION CHAMPIONSHIP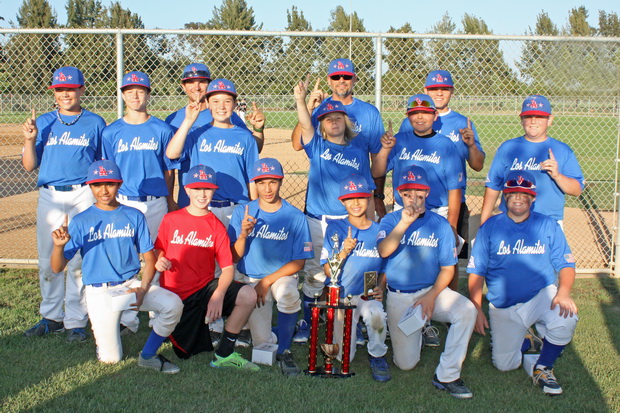 The LAYB Bronco-B team (boys age 12 and under) went undefeated at the annual USSSA Fountain Valley PONY Baseball Memorial Day tournament and won the Blue Division Championship. The final game was a close-fought pitcher's duel against a travel team from Huntington Beach, but LAYB won the championship game 3-1.

Shown here are (L to R, front row): Noah Levy, Ryan Lasiter, Justin Armond, Sean Simonet, Colby Deterding, Landon Ball; (L to R, middle row): Patrick Shanahan, Justin Nankee, Matthew Teufel, Gaige Northrup, William Schwab, Gage Record; (L to R, back row): Coach Kevin Valdez, Manager Bill Schwab, Coach Nick Valdez

LOS ALAMITOS BRONCO "A" ALL-STARS MAKE 2013 WORLD SERIES SEMIFINAL VS. MEXICO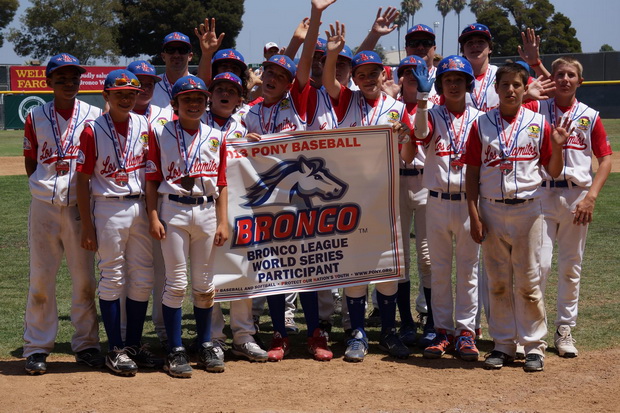 For four incredible days of baseball, our Los Al Bronco all-stars team played with heart and represented LAYB and Southern California with class and excellence. Congratulations, boys, on a phenomenal run at the 2013 Bronco World Series!

We will try and highlight various accomplishments by our baseball players, on and off the field. If you have a story that we should share, please send it in to us.
(Send it to webmaster@LAYB.org)