NEWS
SPONSORS & DONATIONS
BOARD OF DIRECTORS
EVENTS
FILES
CONCUSSION/SCA INFO
ABOUT LAYB
MAP
ADMIN
LAYB Schedule Update


We had hoped to be able to resume the season this month. Obviously, that is not an option at this time but we are hopeful to be able to salvage some part of the season. Basically, we are in a holding pattern like everyone else. We have made no decision at this time but have discussed our options if we are forced to cancel the season. This of course is a last resort and we remain hopeful that play can resume soon. We are continually monitoring the situation and will keep you informed of any changes to the current status.


---
PONY HEADQUARTERS EXTENDS LEAGUE SHUT-DOWN UNTIL MAY 1ST!!!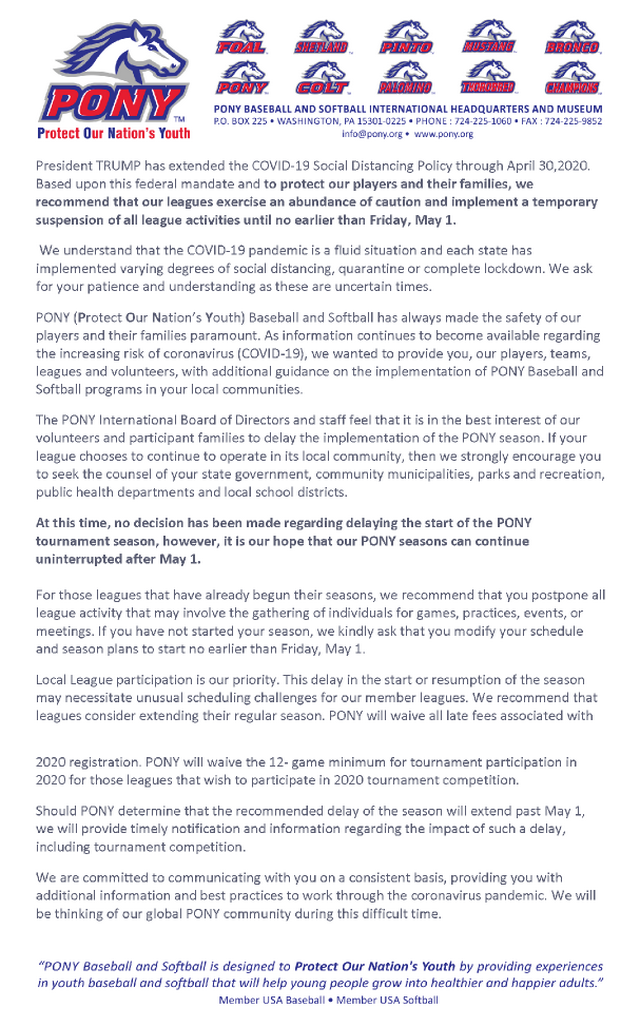 ---
LAYB PLAYER NEWS....
We will try and highlight various accomplishments by our baseball players, on and off the field. If you have a story that we should share, please send it in to us.
(Send it to webmaster@LAYB.org)

The following companies and/or individuals have donated money, services, or materials to LAYB for the 2020 season.

Please show them your thanks and appreciation by patronizing these establishments, whenever possible.


---
TEAM SPONSORS
DONATORS

FOAL

Alcia Friedmann Interior Design

American Legion Post 716

Andy Breier

Big E Pizza

Foal Red Sox Team

Foal Red Sox Team

Friedmann Interior Design

Kristen Peter DBA Kids Under Construction

Los Alamitos Police Officers Association

McAndrews and Sons

Mission Jewelry and Loan

SG Dewitt




SHETLAND

Aero-k

Albert Soto

Culver-Newlin

Earth Friendly Products

Gonzalez Real Estate Group

Hansen Franklin, CPA

International Lining Technology

Law Offices of Davis R. Zellmer, APC

Natalie Rose Cosmetics

New American Funding

Shetland Cubs Team

Subsurface Oilfield Sonics

Viking Navigation, LLC




PINTO

Advanced Industrial Services

Blue Jays Team

Eckardt Family

Edward Jones Jon Glant

FHW Financial Group Inc.

George L. Cheng

Hans Stone-Blueprint Home Loans

Island Fitness Meal Prep

Jimmy John's

Jurado Construction

Long Beach Garden and Brew Supply LLC.

Lord and Sons

Louie Giampapa

Miller Family

Patterson Family

Phil Mazzocco-First Team Real Estate

R.R. Leonard Co.

Rieth Family

SO-CAL fab and Supply,Inc.

Streamline Five Protection




MUSTANG

Advanced Industrial Services, Inc.

Cleland Coffee & Tea

Derek Durward

J.F. Duncan Industries, Inc.

Kels Custom Construction

Law Offices of Hanna Brophy

Mustang Giants Team

Mustang Nationals Team

Nakao Family

Patrick and Jeannine Baker

The Cutting Edge Landscaping

The Van-Duyne-Payne Family

Tracy's Bar & Grill




BRONCO

Bella Palms Inc.

Broncos Dodger Team

Chang DDS

Electric Sales Unlimited

Inservio 3

Louie Giampapa

Lynott Chiropractic & Acupuncture

Martin Pure Foods

Restocrete Inc.

Xpress Auto Service




Tina Andrews

Sacha Bambadji

Marcelo Bedetti

Ingrid Bowers

Simon Bray

Kendra Day

Anthony Dutcher

Ryan Eckardt

Suzanne Ely

Gabriel Figueroa

Hillary Franklin

William Fransen

Fernando Garcia

Carlye Glonchak

Travis Griffith

Shane Johnston

Slater Johnston

Nancy Jurado

Ben Knapp

Suchitar Landis

Jinlong Li

Richard Lillis

Neille Mapanao

Michael Martin

Timothy Masuda

John Miller

Marc Anthony Nomura

Kelli O'Leary

Jamie Pease

Dhanell Rocker

Alicia Rogers

Ryan Rose

Laura San Nicolas

Scott Schaidle

Joseph Short

Kevin Smith

Keith Somsanith

Ellen Tong

Jennifer Vaughn

Brooks Vogt

Stacy Warino


Here is a listing of important dates and times for Los Alamitos Youth Baseball.
---
KEY DATES
| | |
| --- | --- |
| EVENT DETAILS | CONTACT INFO |
We will post important downloads for players and families to access here.
---
| | | |
| --- | --- | --- |
| Description | File Description | Type |
| | Accident / Incident Report | PDF |
| | Pony Age Chart | PDF |
| | All-Star Selection Procedures | PDF |
| | League By-Laws | PDF |
| | Code of Conduct | PDF |
| | Commisioner Duties | PDF |
| | Constitution | PDF |
| | Draft Rules and Recommendations | PDF |
| | Fall Ball Rules | PDF |
| | Local League Rules | PDF |
| | Local Property Rules | PDF |
| | Team Sponsorship Form | PDF |
CONCUSSION & SUDDEN CARDIAC ARREST (SCA)
All managers and coaches must be certified for both the Concussion in Sports and the
Sudden Cardiac Arrest courses before they are elgible to work with the players.
Please visit the website below to get started with your certification, to help make all of our players safer in 2020!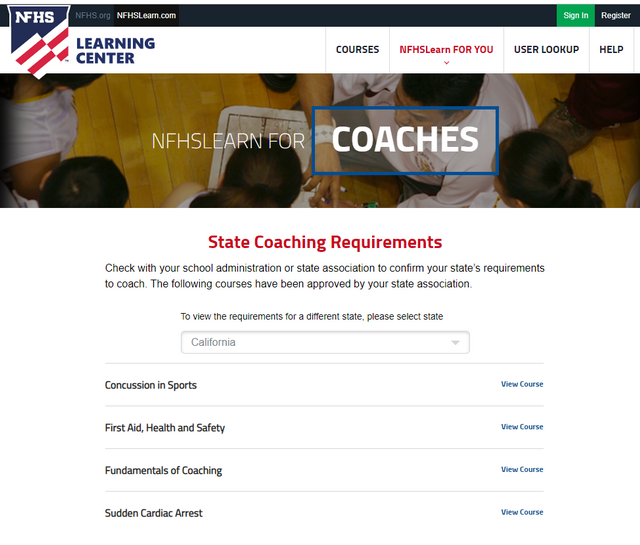 --- CLICK ON IMAGE TO VISIT THE NFHS LEARNING CENTER WEBSITE ---



---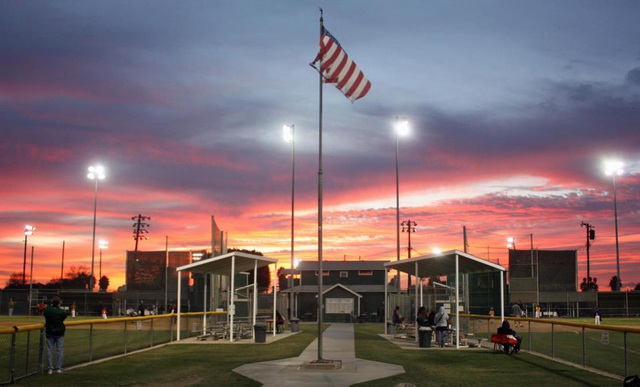 League Motto

"You owe it to yourself to be the best you can be in baseball and in life."

League Overview

Los Alamitos Youth Baseball (LAYB) is a non-profit youth baseball organization. Based in Los Alamitos, California, LAYB is an all-volunteer organization that offers both Fall and Spring baseball programs to boys and girls ages 4-12. We serve Los Alamitos and neighboring communities including Seal Beach, Long Beach, Garden Grove, Huntington Beach, Stanton, Westminster and Cypress. LAYB is a member of PONY Baseball and plays by PONY rules.

In 2019, LAYB is celebrating its 56th anniversary as an incorporated youth baseball league.


---
LAYB LEAGUE BOUNDARIES:
LAYB strictly enforces league boundaries established by PONY Baseball. Players who do not live in the specified boundaries will not be eligible for all-star teams. All players, regardless of where they live are welcome to sign-up and play in regular season and playoff games.

This is the place where modifications can be made to the content on this website. Authorized users can login and select the action that they want to complete..
---
Los Alamitos Youth Baseball Website - ADMIN LOGIN

YESTERDAY'S GAME RESULTS (4/5)
B/Indians, Brewers
B/Pirates, Yankees
B/Cardinals, Rangers
B/Padres, Dodgers
M/Blue Jays, Angels
M/Rays, Dodgers
M/Reds, Giants
M/Nationals, Phillies
TODAY'S GAME SCHEDULE (4/6)
P/4:45 P - Giants (1-0-2) vs. Angels (4-0-0)
P/4:45 P - Pirates (2-0-1) vs. Red Sox (1-2-0)
F/4:45 P - Blue Jays (--) vs. Red Sox (--)
F/6:00 P - Cubs (--) vs. Dodgers (--)
P/6:45 P - Orioles (2-2-0) vs. Astros (2-2-0)
P/6:45 P - Braves (1-1-1) vs. Blue Jays (1-3-0)
TOMORROW'S GAME SCHEDULE (4/7)
M/4:45 P - Rays (2-2-0) vs. Blue Jays (1-2-0)
S/4:45 P - Royals (--) vs. Astros (--)
B/5:30 P - Cardinals (2-1-0) vs. Padres (0-4-0)
S/6:15 P - Blue Jays (--) vs. Giants (--)
M/7:00 P - Phillies (1-2-0) vs. Twins (3-0-0)
UPCOMING EVENTS