Facilities Update
All of LAYB, including the fields and cages are closed to practice until January 31st
We are working on getting the fields and cages ready for the Spring 2015 season.

Our first official practice day will be January 31st.

Please go to local LAYB Sponsors XCEL Baseball or to The Cage at Los Alamitos for any practice you might need.


---
PONY Rescinds Rule Change for Pony Division Bats for 2015
Lighter bats are okay to use for the Spring 2015 season
If a player chooses to use a BBCOR bat it must be -3 and it can't be one of these illegal bats:
Reebok Vector TLS 32-inch model, Reebok Vector TLS 33-inch model, Marucci CAT5 33-inch model, Marucci CAT5 34-inch model, Marucci Black 33-inch model, Marucci Black 34-inch model Nike CX2-BT0636 (light grey), Nike CX2-BTO573 (dark grey), Nike CX2-BTO598 (blue)

The BPF decertification process has been implemented on the following bat(s):
Louisville Slugger (Hillerich & Bradsby) TPX Dynasty - 12 bat (Model - YB12D - black/red/grey) Mattingly Balistk (Model: BTKYB) Blue

These bats should be considered a non-compliant bat in accordance with PONY Rule: 8-C (3) and subject to PONY Rule 18-E (6). They are ILLEGAL!


---
Calling All Volunteers!
Our league has one of the best Snack Shacks around! LAYB is an all-volunteer league and we need a few more parents to help keep our Snack Shack in top shape. Please consider stepping up by joining or even assisting our auxiliary volunteers! This is one of the most important ways you can help our league. For more information, please contact:

Lisa Villa-Nuneza at (714) 658-4458 or Email snackshack@layb.org.com


---
LAYB WEATHER LINE
(562) 598-1919. The LAYB Weather Information Line provides recorded messages for information regarding upcoming events, field condition/rain-out information, etc. If you need to speak with someone directly, please locate the appropriate person on our Board of Directors page. Thanks!
---
THANK YOU SPONSORS!
LAYB would like to thank our generous sponsors. You are a huge part of the league's success and we appreciate your support. Please visit our Sponsors page and consider their services as the need arises. Please also consider becoming a league sponsor. Click here to see our 2014 sponsorship packages.
---
NO DOGS OR PETS AT LAYB -- SEEING EYE DOGS PERMITTED

NO SUNFLOWER SEEDS AT LAYB
---

LAYB PLAYER NEWS....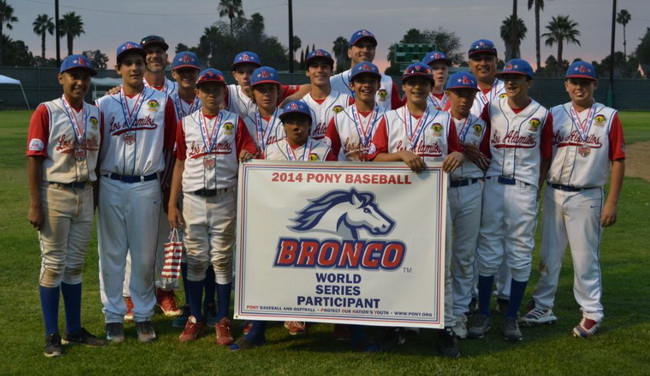 Our LAYB Bronco All-Stars had an exciting come-from-behind win over Mexico at the Bronco World Series at LAYB. Down 9-6 heading into the 7th inning, the team scored 7 runs and held Mexico scoreless at the bottom of the inning to advance to the 3rd round against Taiwan. Congratulations and thank you to our players, coaches and families for an exciting World Series run!

LAYB'S BRONCO-11 A ALL-STARS HEADED TO WORLD SERIES IN VIRGINIA!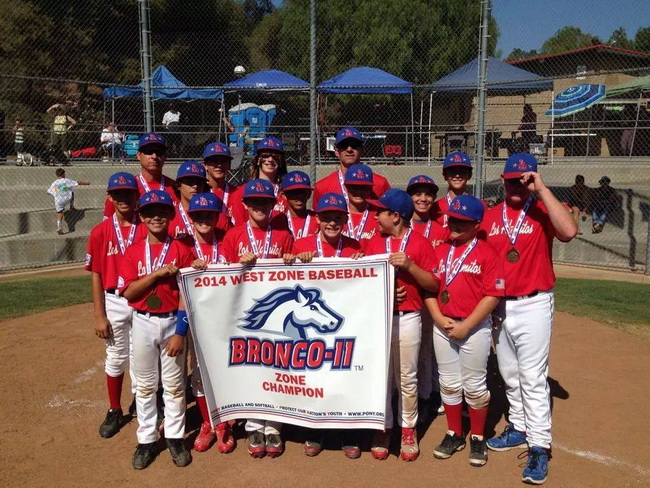 LAYB's Bronco 11 A All-stars earned a trip to PONY Baseball's Bronco-11 League World Series in Chesterfield, Virginia. They put in a dominating performance in the Western Zone tournament in San Marcos, CA this past weekend, going 4-0 and beating Simi Valley 14-2 in their Championship Game, July 20, 2014. Good luck in the World Series, boys and coaches!

LAYB'S SHETLAND ALL-STARS WIN SUPER REGIONAL CHAMPIONSHIP!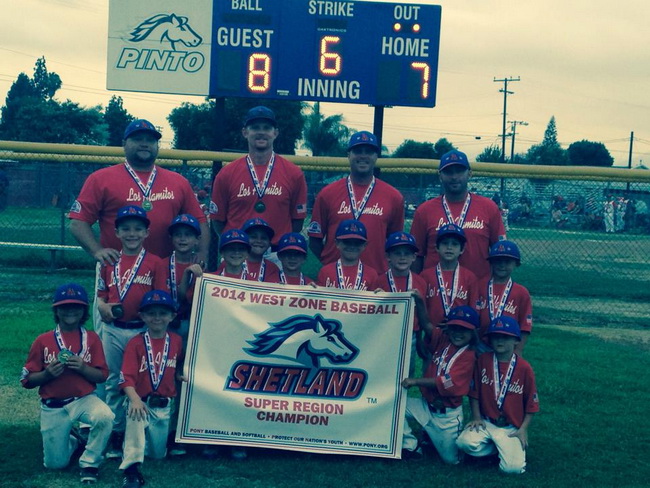 LAYB's Shetland All-stars went 3-0 to win their Super Regional Championship in West Covina! Way to go Los Al!

We will try and highlight various accomplishments by our baseball players, on and off the field. If you have a story that we should share, please send it in to us.
(Send it to webmaster@LAYB.org)